Malarkey Emerald Premium Contractor
The mission of the Certified Residential Contractor Program
The mission of the Certified Residential Contractor Program is a shared value focus, bringing together industry roofing specifications with factory trained installers using quality Malarkey Roofing Products. In addition, we want to provide our Malarkey homeowners with a local roofing professional.
ROOFING CONTRACTOR'S GOALS
The Certified Residential Contractor Program offers numerous advantages; providing confidence to the homeowner that the contractor is trained, experienced, and knowledgeable. It strengthens the working relationship between the Certified Residential Contractor and the homeowner, while helping to distinguish the contractor's efforts in their community.

CRITERIA TO BECOME A MALARKEY CERTIFIED RESIDENTIAL CONTRACTOR:
• Licensed, bonded, and insured (if required by your state)
• In good standing with Better Business Bureau
• In good standing with the Construction Contractors
Board
• At least 5 years in business
• Completes the Malarkey "Steep Slope Roofing
Excellence" training
• Completes and passes the Steep Slope application tests
• Conforms to local building codes and regulations
• Demonstrates excellent safety standards as outlined
within OSHA requirements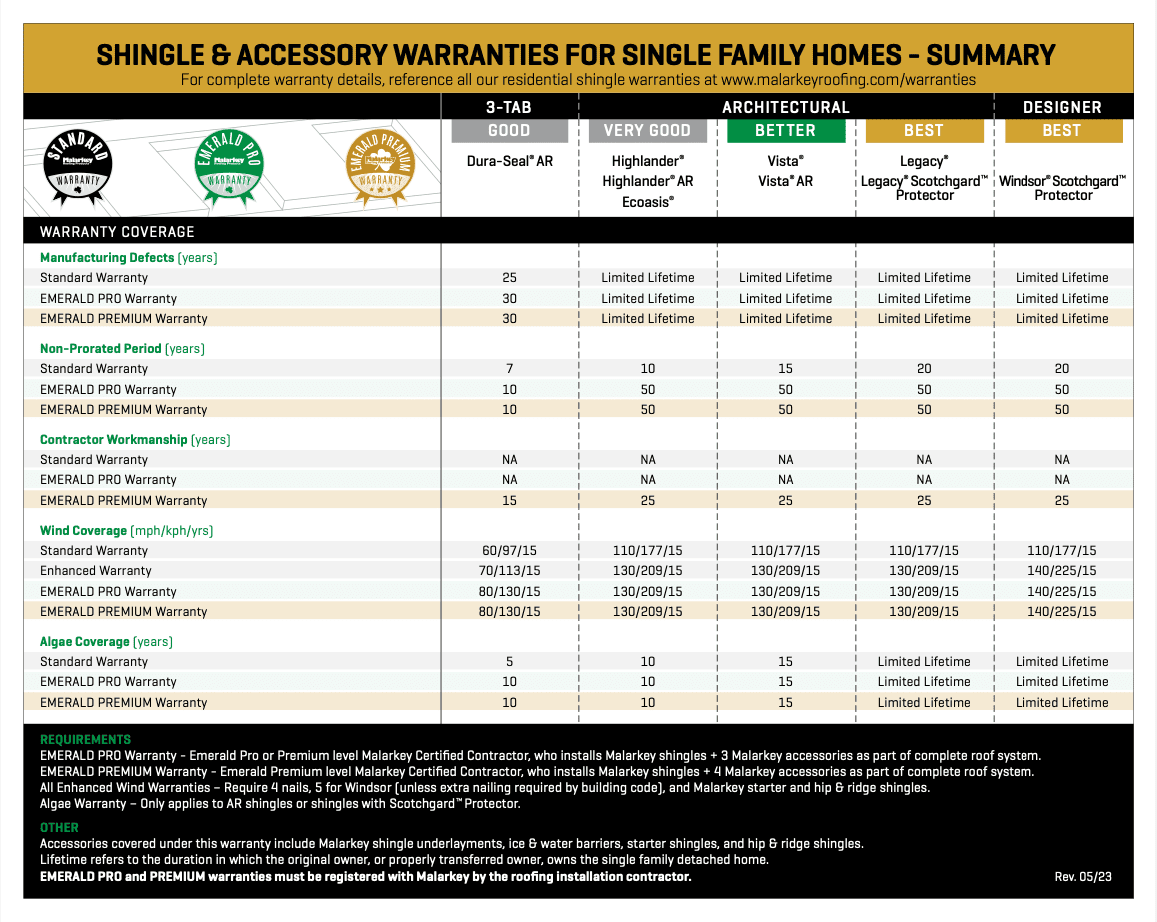 All Limited warranty transfer-ability: The warranty and all its benefits can be transferred ONLY during the Right Start period. If transferred after that time, the warranty defaults to just a 2-year warranty, even if it began as a lifetime warranty. Potential warranty hassles: Most homeowners never have to make a claim based on material defects. If you do, expect a hassle dealing with ANY manufacturer. The solution is to work with a licensed installer with a good reputation. Choosing a company certified by the shingle brand you choose is an extra layer of protection against bad installation and potential warranty claim hassles.
Standard Warranty: Vista 12 years right start. Legacy shingles line only 15 years right start. Windsor shingles 15 years right start & n/a Contractor workmanship.
Emerald Pro installer offer: Vista 20 years right start. Legacy shingles line only 25 years right start. Windsor shingles 25 years right start & n/a Contractor workmanship.
Emerald PREMIUM installer offers best warranty of all!
• 45 years right Non-Prorated start period.
• Legacy shingle lines get a Non-Prorated 50yrs right start.
• Windsor shingles 50 years Non-Prorated right start & 15yr contractor workmanship through Malarkey roofing.
The Scotchgard shingles has limited lifetime warranty against algae.