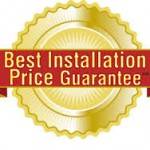 THE GIRON PRICE GUARANTEE
"The best materials and top quality craftsmanship at the best price." That is our goal with every project we perform. We are so confident we can provide the best price, that we are willing to match any other written proposal you receive (identical products and detailed service restrictions apply).
We believe that none of our competitors offer the same top quality products, professional level of service and installation, or outstanding warranties at our prices.
If you receive a written estimate from another reputable local company for identical products and services, we hope you will give us the opportunity to match it. To do so, simply provide us with a copy of a competing contractor's full estimate within 15 days of the date you received it.
The Fine Print:
We will only accept estimates provided by licensed contractors doing business in the states of Oregon and/or Washington. Contractors must provide proof of both liability insurance and workman's compensation. Contractors must have provided you with a dated written estimate with a detailed listing of materials and labor for your project.
The Giron Price Guarantee is available when the products included in the estimate are the same brand, and include the same additional equipment, accessories, and services, with the exclusion of custom, discontinued, or damaged items. If a competitor's estimate is for different brands, models, additional equipment, accessories, or services, we reserve the right to substitute equipment we believe to be equivalent. We further reserve the right to verify product availability and price before issuing a price match and will determine prices after all discounts and rebates have been applied. Limitations to item quantities may apply.
The Giron Price Guarantee expires 30 days from the date of issue.